Home Repertoire List VCME CDs Program Notes

Alex Abele
A composer in the post-modern tradition, Alex Abele draws inspiration from a wide range of musical influences. While the style of Abele's music ranges from the academic to the mainstream, serialism and counterpoint are common elements in most of his works. His compositions include works for orchestra, chorus, chamber ensemble and jazz ensemble.
Abele was born into a family of music lovers in Concord, Massachusetts in 1969. His dreams of becoming a performing musician were redirected in High School when he began studying harmony. Abele soon realized that he was much better at creating musical scores than he could ever be at performing them. He went on to study with Thomas L. Read at the University of Vermont, where he received his BA in music theory. At Portland State University he studied with Tomas Svoboda and Salvador Brotons, and at Towson University where he earned a M.Mus. in composition, he studied with William Kleinsasser.
As a musician, Abele devotes most of his time to composing and teaching. However he will still venture on to the stage for the rare gig as performer or conductor on those rare occasions when opportunity and availability are in sync. When not making music, or working, Abele and his wife enjoy raising their four children in rural Vermont.

Dennis Báthory-Kitsz
Dennis Báthory-Kitsz is one of America's most exciting and diverse composers. He has made work for sound sculptures, soloists, tape & electronics, stage shows, orchestras, dancers, interactive multimedia, acoustic installations, and performance events. He directs Il Gruppo Nuke Jitters, and has been commissioned more than 70 times.
His music ranges widely: He helped initiate the chamber opera resurgence with Plasm over ocean at the World Trade Center in 1977, using instruments of his own design; he presented the solo interactive performance work Echo with handmade instruments, sound sculptures and computers in Vermont in 1985; In Bocca al Lupo, ane early artistic creation for quasi-intelligent systems, opened in Montana's Yellowstone Art Center in 1986; the Vermont outdoor installation Traveler's Rest was a 1991 collaboration with sculptor Fernanda D'Agostino; in 1999, he was the first American composer commissioned for Prague's legendary Mánes Museum, conducting Zonule Glaes II for string quartet & electronic playback; a full concert exploring his music was held at Amsterdam's Zaal 100 in 2003; and his techno-overture Icecut was premiered by the Vermont Symphony Orchestra in 2004.

Dennis is working on the vampire opera Erzsébet, appearing at Cséjthe Castle in Slovakia in 2006, and on commissions for Carson Cooman, Su Lian Tan, Martin Cikánek, Petr Cigler, Ed Epstein, James Pellerite and others. Recent commissions are Shahmat for solo flute (Su Lian Tan); LiquidBirds for three Theremins and video (FlynnSpace); NorthSea Balletic Spicebush for solo contrabass (P. Kellach Waddle); Bales, Barrels & Cones for drumkit and playback (Michael Manion); Phylum Euphoria for euphonium and playback (Jiri van der Kaay); and Sing to Me, an opera scene (Discovery Channel). Among his recordings are Csárdás (Ursa Minor), Detritus of Mating (Sistrum), zéyu, quânh & sweeh (Frog Peak), iskajtbrz (UnLimit), The Warbler's Garden (Capstone), and Snare:Wilding (illegal art.)
He has advocated for contemporary nonpop music for 30 years, from his co-founding of the Trans/Media arts cooperative in 1973 through his present work as co-host of the radio/cyber show Kalvos & Damian's New Music Bazaar, which won the ASCAP-Deems Taylor Award in 2000. He has been project director for festivals from the 1974 Delaware Valley Festival of the Avant-Garde through the 2001 Ought-One Festival of NonPop, and co-founded the NonPop International Network of new music shows.

Dennis speaks and writes about music and composition; is Senior Editor for The Transitive Empire; is co-founder of OrbitAccess, evaluating website usability; and is Executive Director of the Vermont Alliance of Independent Country Stores. Dennis's virtual home is at maltedmedia.com and he lives in Northfield, Vermont. Web site: http://www.maltedmedia.com/people/bathory/.
Alban Berg
photo copyright: © Universal Edition

Vida Chenoweth

Dr. Vida Chenoweth (born 1929 in Enid, Oklahoma) was the first professional solo classical marimbist. Also a noted ethnomusicologist and linguist, she was inducted into The Oklahoma Hall of Fame in 1985 for her contributions to those three fields.
While in high school in 1948, Chenoweth spent part of a summer studying marimba with Clair Omar Musser at Northwestern University. She then attended William Woods College in Missouri, transferring to Northwestern for her final two years of study and emerging with a double degree in music criticism and marimba performance. For graduate school, Chenoweth attended the American Conservatory in Chicago (1952-1953), where she earned a double degree in music theory and percussion. At the American Conservatory, Chenoweth wrote several pieces for marimba as a solo and chamber instrument, studying Canon & Fugue and advanced music theory with Stella Roberts, who was a student of Nadia Boulanger. Chenoweth also performed with James Dutton in a trio of two marimbas and piano.
Chenoweth made her solo debut in Chicago in 1956, followed by a successful recital in New York. She subsequently gave concerts all over the world. She is credited with being the first to perform polyphonic music on the marimba and with bringing it to public acceptance as a serious concert instrument, doing for the marimba what Pablo Casals did for the cello and Andres Segovia did for the guitar. She is the only concert marimbist who has appeared as guest soloist in Carnegie Hall with a major orchestra.
Anthony Cornicello
Composer Anthony Cornicello (born in Brooklyn, New York, 1964) writes music that blurs distinctions between performers and electronics, timbre and harmony, composition and improvisation, and explores the boundaries of what may be considered post-classical concert music. His music is vibrant and visceral, full of rhythmic energy and harmonic sophistication, and his forays into live electronics have led to exciting combinations of instruments and processed sound. Cornicello's background as a jazz pianist is evident not only in the rhythmic activity of his music, but also in his constant investigation of the rich sonorities available from a variety of instruments.
He has been commissioned to write music for ModernWorks (funding from Meet the Composer/ Commissioning Music USA), the Auros Group for New Music, the Prism Saxophone Quartet, the New York New Music Ensemble, David Holzman, the Group for Contemporary Music, and the InterEnsemble of Padova, Italy. Cornicello's works have also been performed by the Chicago Civic Symphony, Madeleine Shapiro, Robert Black, among many other performers. His music has been presented as part of the Darmstadt International Festival of New Music as well as the June in Buffalo Festival, and on the Guggenheim Museum's "Works and Process" series.
Cornicello's Second String Quartet has been recorded by the Atlantic String Quartet; the Second Sonata for Piano by David Holzman (Centaur). More recently, his Post-Modern Waltz was recorded by Eric Moe for Albany Records. A portrait CD of Cornicello's works is scheduled for 2012 release.
Cornicello's works are published by C.F. Peters Corporation and APNM, and he is a member of BMI. He is a Professor of music at Eastern Connecticut State University.

Website: http://www.anthonycornicello.com/
David Gunn
David Gunn began his musical training at Settlement Music School in Philadelphia, studying piano and percussion. He later graduated from the Ohio State University with a degree in music composition. In 1992, VCME commissioned him to write "A Song, a Dance and a Spizder" (sic) for the New Music Across America series. Since then, the ensemble has performed his music dozens of times in concert and on public radio. VCME also recorded a CD of his chamber music compositions entitled Somewhere East of Topeka, which Albany Records released in 2003. Brisk sales are anticipated any day now.
Gunn has also been commissioned by the Vermont Symphony Orchestra, the Vermont Youth Orchestra, Ethel, Essential Music, the Montpelier Chamber Orchestra, Acolade (sic) and Social Band, among others. Ray Bradbury's Pandemonium Theater Company has five times trod the California boards accompanied by his incidental music. Gunn's compositions have earned him an ASCAP pecuniary award every year since 1997. And in 2004, the Vermont Arts Council awarded him its Citation of Meritorious Service to the Arts. (Go figure.)
For 10½ years, Gunn co-hosted the ASCAP-Deems Taylor Award-winning radio show, Kalvos & Damian's New Music Bazaar. The show is archived at www.kalvos.org. Gunn's own website, http://davidgunn.org, contains numerous recordings and scores of his compositions. Gunn is also a writer and humorist, and examples of both can also be found on his website. He lives simultaneously in Barre, Vermont and in hope of, in order, peace on earth, good will towards men, and a pile of cash in the bank.
Don Jamison
Don Jamison was born in 1956 and raised in Greensburg, Pennsylvania. He graduated from Haverford College with a major in music, and received a Doctor of Musical Arts degree from Columbia University in 1992. Don and family moved to Vermont in 1989 when his wife, Christina Root, joined the faculty at St. Michael's College. In 1998, an invitation from the Warebrook Contemporary Music Festival to write a set of pieces for Marshfield-based Village Harmony led Don to continuing adventures with singing. He is one of the founders of Social Band, a chorus based in Burlington, and the Vermont Employee Ownership Center where he works.


Dan Jessie
Dan Jessie has been composing, arranging, and performing music for the past twenty five years. Working primarily in the jazz idiom, his earliest works were for the "big band" jazz ensembles at his high school and at Northern Illinois University. After college, Dan continued to orchestrate show music for various ensembles and productions, ranging from small scale night club shows to the Miss Illinois Pageant. He also worked with several experimental and improvisational music groups both in the Chicago area and in New York, where he continued to arrange music for cabaret singers while developing his distinctive piano stylings in original compositions for the piano. His work as a piano technician and recording producer brought him in contact with the widest possible range of music influences, from Bach to Babbit, all of which helped to shape his original works.
Daniel Kessner
Born in Los Angeles in 1946, Daniel Kessner received his Ph.D. with Distinction at The University of California, Los Angeles, in 1971. His more than 100 compositions have received over 600 performances worldwide, and 22 works are recorded commercially.

Most important awards include the Queen Marie-José International Composition Prize in Geneva, 1972, a 2003 Fulbright Senior Scholar Award to lecture and perform at the Musikhochschule in Trossingen, Germany, a Fulbright Senior Specialist Grant to perform and lecture in Trondheim, Norway in 2007, and a second Specialist Grant for a residency at the Universidade do Minho in Portugal in 2011.

Now retired after a teaching career of 36 years at California State University, Northridge, he maintains an active career as a flutist and conductor as well as composer.


John Mantegna
John Mantegna received his BM and MM degrees from Peabody Conservatory in Baltimore, Maryland, where he studied classical guitar, flute, and electronic/computer music. Subsequently, he earned an MS degree in computer science from the Johns Hopkins University and pursued a career in computing, specializing in music-related technology. In 2002, John returned to music full-time and is now performing, composing, and teaching classical guitar at the University of Vermont. He is also involved in music-related research at the MindBody Medicine Research Clinic - University of Vermont College of Medicine. As a composer, his primary interest is music for solo performers with live electronics, aiming to explore timbres and textures made possible by this medium.
Marc Mellits
Marc Mellits was born in Baltimore, Maryland in 1966, and is one of the leading American composers of his generation, enjoying many performances throughout the world. His unique musical style is an eclectic combination of driving rhythms, soaring lyricism, and colorful orchestrations that all combine to communicate directly with the listener. Mellits' music is often described as being visceral, making a deep connection with the audience. "This was music as sensual as it was intelligent; I saw audience members swaying, nodding, making little motions with their hands" (New York Press). He started composing very early, and was writing piano music long before he started formal piano lessons at age 6. He went on to study at the Eastman School of Music, Yale School of Music, Cornell University, and Tanglewood. Mellits often is a miniaturist, composing works that are comprised of short, contrasting movements or sections. His music is eclectic, all-encompassing, colourful, and always has a sense of forward motion. Mellits' music has been played by major ensembles across the globe and he has been commissioned by groups such as the Kronos Quartet, Orpheus Chamber Orchestra, Sergio and Odair Assad, Bang On A Can All-Stars, Eliot Fisk, Andrew Russo, Canadian Brass, Nexus Percussion, Real Quiet, New Music Detroit, Musique En Roue Libre (France), Fiarì Ensemble (Italy), the Society for New Music, Syracuse Symphony Orchestra, and the Albany Symphony's Dog's Of Desire. Marc remains active within the acclaimed Common Sense Composer's Collective, a group he helped found, which seeks new and alternative ways of collaborating with performance ensembles. Mellits also directs and plays keyboards in his own unique ensemble, the Mellits Consort. He was awarded the prestigious 2004 Foundation for Contemporary Arts Award. On CD, Mellits' music can be found on Black Box, Endeavour Classics, Cantaloupe, CRI/Emergency Music, Santa Fe New Music, & Dacia Music. Marc Mellits lives in upstate New York with his wife and two daughters, and spends significant time in Romania.
Otto Muller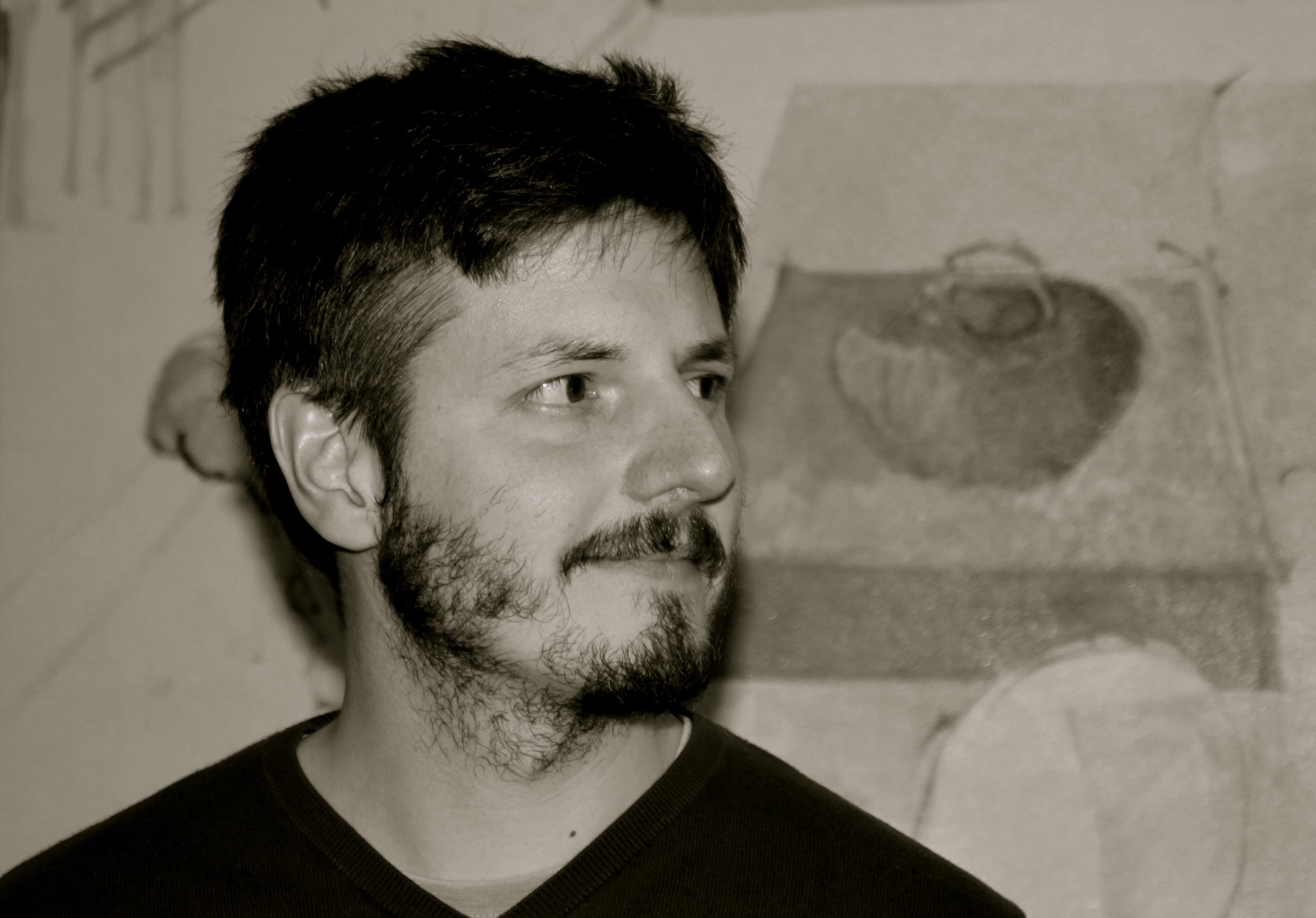 Otto Muller (b. 1981) is a young American composer whose work often investigates the peculiar semiotic residue that remains when recognizable musical objects are forced through the deteriorating mechanics of modernism (an investigation that has at various times embraced Puccini, old cassette tapes, serial techniques, and puppetry).
Muller studied philosophy and composition at Northwestern University and went on to receive his PhD in composition from the University at Buffalo. He has also studied with Azio Corghi at L'Accademia Chigiana in Siena and with Chaya Czernowin at the Tzlil Meudcan Festival in Tel Aviv. His quietly virtuosic chamber works have been performed throughout the United States and Europe by ensembles including the Alea III Ensemble, the Third Coast Percussion Quartet, the New York New Music Ensemble, Duo Stump-Linshalm, and the International Contemporary Ensemble, and have received grants and awards from BMI, the New York State Council for the Arts, and the New York State Music Fund. Muller has also been engaged in numerous interdisciplinary collaborations in theatre, film and visual arts; his work with the Grafted Cede Theatre Co., and filmmakers G. Alan Rhodes, and Vincenzo Mistretta has been shown in London, Rome, and New York.
Otto Muller teaches music, aesthetics, and interdisciplinary art in the Individualized Studies program at Goddard College in Vermont.
Erik Nielsen
Erik Nielsen's compositional catalog includes works for chorus, orchestra, wind ensemble, solo instruments, chamber music of many configurations, works for dance, film and electronic music. His works have been performed in Canada, Europe, Asia, South America and Australia as well as many locations in the United States and have been performed by ensembles including the Amabile, Chiara, Emerson and Ying String Quartets; the National Symphony Orchestra; the Killington and Manchester Chamber Players; Bread and Puppet Theater; the Vermont Contemporary Music Ensemble; Vermont Opera Theater, Vermont Symphony; Vermont Youth Orchestra and Village and Northern Harmony. He has won awards from ASCAP, the Vermont Arts Council, and in 1991 was chosen Vermont Composer of the Year by the Vermont Music Teachers Association. His most recent commissions include a song cycle, The Falling of Trees for baritone and piano quartet, premiered by the Rochester Chamber Music Society in Rochester, Vermont on July 8, 2007; his Quartet for Strings #2, premiered by the Chiara Quartet at The Chandler Center for the Arts in Randolph, Vermont March 15, 2008 and for which he received a Composer Assistance Program grant from the American Music Center in March, 2008; and Cinque Amici, a work for flute, clarinet, violin, cello and piano premiered by the Vermont Contemporary Music Ensemble April 17 and 18, 2008, for which he received a Creation Grant from the Vermont Arts Council in August, 2007. In 2002 he received the National Symphony Orchestra's composition prize for Vermont. The resulting commissioned work, Mr. Nielsen's Quintet for Clarinet and Strings, was premiered at the Kennedy Center in Washington, D. C. on March 20, 2004. In October, 2000, his opera, A FLEETING ANIMAL: An Opera from Judevine, a collaboration with poet/playwright David Budbill, was premiered to great acclaim in several locations in Vermont. He was a 1994-95 recipient of a Vermont Council on the Arts Fellowship in music. In 1995 his piano quintet was performed at Carnegie Hall by the Manchester Chamber Players. He has been a recipient of ASCAP Standard Panel (now ASCAP PLUS) awards annually since 1993. Mr. Nielsen is senior composition mentor with the Vermont MIDI Project. He also teaches music theory and composition with the Vermont Youth Orchestra. Mr. Nielsen lives in Brookfield, Vermont.


Troy Peters
Troy Peters has been a popular and acclaimed guest conductor with orchestras including the San Antonio Symphony, Vermont Symphony Orchestra, and Vermont Mozart Festival. He became Music Director of YOSA (Youth Orchestras of San Antonio) in August 2009, after 14 years in Vermont, where he was Music Director of the Vermont Youth Orchestra, Middlebury College Orchestra, and Montpelier Chamber Orchestra. His work has been the subject of national media attention from CBS Sunday Morning, National Public Radio's Weekend Edition, and The New Yorker. He has gained international attention for his orchestral collaborations with rock musicians, including Jon Anderson (of the band Yes) and Trey Anastasio (of the band Phish), with whom he worked on two albums on Elektra Records.
Peters conducted the world premiere recording of Daron Hagen's Masquerade with violinist Jaime Laredo, cellist Sharon Robinson, and the Vermont Symphony Orchestra. Among the other soloists with whom he has collaborated are Midori, Horacio Gutiérrez, Daniel Bernard Roumain (DBR), and Soovin Kim. Vermont Governor James Douglas recognized his contribution to the state's cultural life by proclaiming April 17, 2005, as "Troy Peters Day" in Vermont, and he was also awarded a Vermont Arts Council Citation of Merit in 2009. He has been honored with seven ASCAP Awards for Adventurous Programming of Contemporary Music. Among Peters' other past conducting positions are posts with the Philadelphia Youth Orchestra, the Pacific Chamber Soloists, and Perpetuum Mobile. He holds degrees from the Curtis Institute of Music and the University of Pennsylvania.
Peters is also active as a composer, where his work ranges from orchestral and chamber music to a large body of songs and an opera for hand puppets. Among his honors are the Charles Ives Scholarship from the American Academy of Arts and Letters and grants from Meet the Composer and the Rockefeller Foundation. His music has been commissioned by many groups, including the Philadelphia Singers, Vermont Symphony Orchestra, Saint Michael's College, Vermont Contemporary Music Ensemble, and Social Band. His primary compositional mentors were Ned Rorem and George Crumb. A versatile instrumentalist, Peters not only plays the viola, but has also performed on tenor banjo and electric guitar with symphony orchestras. Born in 1969 in Greenock, Scotland (of American parents), Peters grew up in Tacoma, Washington, and lives in San Antonio with his wife and two children.
Thomas Read
Thomas L. Read, composer and violinist, is Professor Emeritus at the University of Vermont. He has composed music for a variety of media and almost entirely oncommission- music for small ensembles, full orchestra, solo voice, chorus and musical theater, including several pieces for Social Band. He has been a recipient of several Arts Council and University Stipends, and has been awarded fellowships from organizations such as the McDowell Colony, the Charles Ives Institute, and the Johnson Composers Conference. Recent premieres include, Third String Quartet (2008, Kiev, Ukraine), and Octet for Strings (2009, Ann Arbor), What Story Awaits Its End?, Beneficent Shadow (2010, Burlington), Lullaby for Guitar (Salem MA, 2010), First String Quartet (2011, Harvard Univ.). C.F.Peters, American Composers Edition, Tunbridge Music, Tuba Euphonium Press and Yelton Rhodes publish his work. Listen to his music on Zimbel Records, VCME Records, Socialband.org, ERM Media Masterworks, Vol.2, and on YouTube. A complete repertoire and recording list is at www.ThomasLRead.com.
Belinda Reynolds
Raised in a Texan Air Force family, Belinda Reynolds now considers herself an 'adopted native' of California. She is an active composer, organizer, and teacher that focuses on bringing new music to a variety of audiences and mediums.
Belinda Reynolds' music has been performed by a number of organizations throughout North America and Europe, including: the Cecilia Quartet, Da Capo Players, New Music Works, Music Now, Seventh Chapter Brass (Australia), The U.S. Army's Brass Ensemble, Vermont Contemporary Chamber Players, and The Albany Symphony's Dogs of Desire. Her music has been featured in such festivals and venues as the Spoleto USA Music Festival, Lincoln Center's Great Performers Series, and Weil Recital Hall at Carnegie Hall. Other projects include commissions for the San Francisco Chamber Orchestra and David Tanenbaum. Most recently, she scored the music for the PBS documentary, The New Metropolis, directed by award winning documentary filmmaker, Andrea Torrice.
As an organizer, Ms. Reynolds is Vice-President of the composers' cooperative, Common Sense. Common Sense's premiere CD was recorded on CRI's Emergency Music label in January, 1997. Their CD, Shock of the Old, featuring works from their collaboration with the Bay Area Ensemble American Baroque, was one of the winners of the Chamber Music America/WQXR.

Other than composing, Ms. Reynolds' passion is music education. She is in demand nationwide work with schools and communities helping children learn to create music. Ms. Reynolds has been a weekly columnist for the American Music Center's NewMusicBox webzine, focusing on composing music for young players. She is also the creator of the innovative commissioning series. Called CUSTOM MADE MUSIC, it enables individuals to commission music 'customized' for amateur players in everyday occasions. The release of the fruits of this project is coming this coming fall by PRB Productions. Ms. Reynolds is the Director of HeShe Music in San Francisco, a private studio that teaches composition, piano, theory, and musicianship to both beginners and professionals. Her music is published by Dover, HeShe Music, Kithara Editions, Les Productions d'OZ, and PRB Productions. Her recorded music can be found on the Albany, Innova, and Trance recording labels, among others.

Allen Shawn
Allen Shawn (born 1948) grew up in New York City and started composing music at the age of ten. After studying composition with Leon Kirchner and Earl Kim at Harvard University, he spent two years in Paris studying with Nadia Boulanger, then returned to New York, where he pursued graduate studies at Columbia, taught at a number of schools, and worked as a theater pianist. He has lived in Vermont since 1985, and is on the faculty of Bennington College.
Shawn has composed chamber and piano music, ten orchestral works, song cycles and choral pieces, a chamber opera and a music-theater work to libretti by his brother, playwright Wallace Shawn, a one act children's opera to a libretto by Penny Orloff, music for ballet, incidental music for theater, and music for film. He is represented on CD by a considerable amount of chamber music, music for solo piano, and a recording of his Piano Concerto performed by Ursula Oppens with the Albany Symphony. He has received both a Goddard Lieberson Award and an Academy Award in Music from the American Academy of Arts and Letters for his work as a composer. Allen Shawn is also the author of the book Arnold Schoenberg's Journey, which received a Deems Taylor Award from ASCAP in 2003. His second book, Wish I Could Be There was published in February, 2007.
Igor Stravinsky

Home Repertoire List VCME CDs Program Notes


---